Tuesday, August 22nd, 2006
It is fitting that Ian Stock should have been the first fellow nutcase to run locos on the MPLR as we were amongst the first guests on the LBR.
Below are a short selection of pictures that show off Ians' wonderful Roundhouse locos and rolling stock.
Here we see 'Adolph' preparing for the days activities.  Note the new engine shed!  Our first attempt at building a building… er, if you see what we mean..
Ian Stocks' Russel sits waiting to collect a rake of coaches and begin passenger traffic.
Here we have Ians' Lady Anne reversing out of the sidings to begin her run.
Just a nice picture of Ians' Russel.  Nice isn't it.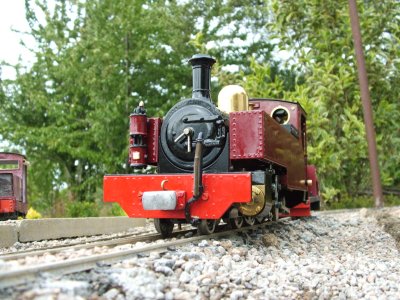 And Russell leaves Lavender Hill with a mixed goods train.
A snails eye view.  Some days ago, 'Arthur' derailed at Chafford Gorge.  Upon investigation the corpse of a snail, minus head, was discovered.  The poor creature must have been crossing the line and was not paying attention.  Ahh.  Let that be a warning to you all.  Never play on railway lines!  This picture of Ian's Lady Ann would have been similar to the last thing the poor snail ever saw:(
Passenger services all finished, the PW staff finish tidying up and 'Ron' hauls a few empty wagons to the gravel pit for tomorrows work.  Who gave permission to stand on top of the engine shed to take this picture.  The H&S chaps will have a heart attack!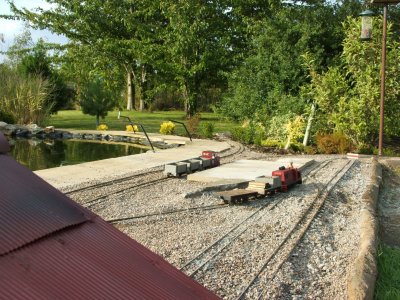 All tidied up and quiet at last.
A big thankyou to Ian for a very pleasent afternoon.