Monday, May 30th, 2011
The day rose fine and fair,  just right for a day out for the family on the MPLR.  Of course, Mario and his ice-cream cart was very busy today and he was making the most of the sunny weather.
Wynn, the railbus, has been working flat out and even had to pull another carriage!
Soon the platform was filling up but not just with visitors to the railway and reserve, these had more seasonal things on their minds!  What is that commotion going on at the end of the platform?
Well, that looks remarkably like some morris men!
Yes, it is the Adderbolt Morris Men and there are two very familiar faces amongst them!  Is that our Terry and Job? Of course it is, with Hamish proudly watching from the side.  Adderbolt Morris are a local team tha have been going for some years but started to lose members for a while.  So Terry and Job decided to join them and now they practise every Thursday in the big engine shed.  But, do you know where their name comes from?  Lets have a closer look at their kit……
See the Dragonfly symbol on the musicians back?  Well, another name for a dragonfly is 'adderbolt', and of course there are plenty of dragonflies to be seen on the reserve, so that's how they got their name.
Well it's not just been morris dancing going on today we have had a few trains running too, plus the mill has been very busy again.  But here are few of the trains that were seen today.
So, we followed Wynne to Lavender Hill Halt to see what was going on there…
Well, it was such a lovely day the Adderbolt Morris Men spent the whole day going round the MPLR!
As we follow Wynne round we have a short stop at Bill Oddie Halt to take a few minutes out to do a bit of bird watching from the hide.  Polish Pete has set up his tea hut because of all the visitors there has been…
But hang a minute, what's that tankard and glass doing there?  Don't tell me the Adderbolt Morris Men have been here too!  Looks like someone left something behind!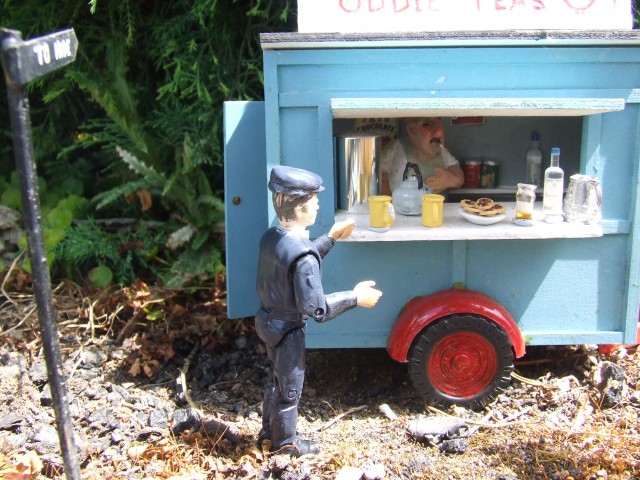 Well it has been a lovely day on the MPLR and everyone has enjoyed themselves including the Adderbolt Morris Men.