Monday, February 18th, 2013
The three PW lads were in great spirits today because of the arrival of a special delivery for Job! He has been missing his favourite hobby since he moved up from the West Country and finally managed to have his very own boat delivered by train to Moreton Pit Station! They brought it straight into the engine shed to get it under wraps before the weather turned again!
He was so excited he couldn't wait to get it off the trailer to start checking it.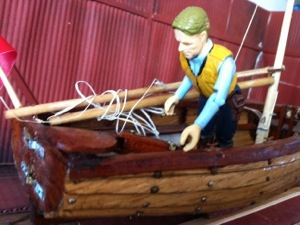 It won't be long before he will be out sailing on Moreton Lake with the sailing club! But he thought he'd try it for size to make sure he still fits in it!

For those who want to know its a little handmade, oak planked gaff rigged sailing boat!