Monday, August 29th, 2011
The MPLR PW crew's annual holiday was due and they decided to kill two birds with one stone and put 'Noel' through her paces while at the same time having a day out by the sea!  'Noel' has been out of service for a while due to having to have a major rebuild on the engine and so Hamish , Terry and Job wanted to give her a good run to make sure everything was as good as new so off they went to visit the Point Clear Tramway.  A lovely day was had by all as you will see from the photographs.
The boys toured round the railway and visited various places the first being the Point Clear Wood Yard.
The wood yard was very impressive and the boys had a good chat to the men there.
Then it was back onto Noel and off to Mutely Standing.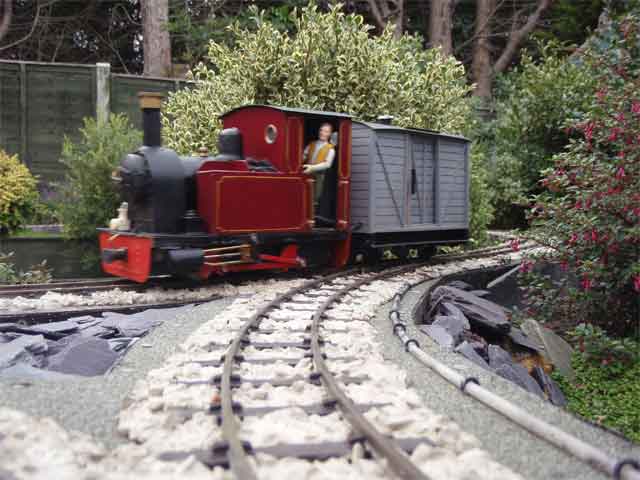 Where Terry was amazed to see that they still deliver the milk by horse and cart!,  Well it is out in deepest Essex!
Being Bank holiday the railway was very busy but we managed to get a few photos for you.
Soon it was time for the boys to wet their whistles and a quick visit to the 'Grapes' at Mutely Standing seemed to be the order of the day.
We think that Job must have visited the general stores in the High Street as he couldn't be seen anywhere!
The Main Station had a few passengers waiting for the next train.  we think that it must have arrived earlier than expected as one passenger seems to have been caught short!
Shortly, the one of the Point Clear Tramway's own trams flashed through the station!
All too soon it was time to be getting back and the crew were saying their goodbyes at Lower Standing.
Then it was a quick look at the sea and homeward bound again.
Is that the MPLR's Fat controller on the beach?
.