Monday, April 23rd, 2007
The staff were sorry to come across this sad sight this morning. We can only assume that the car was stolen last night and dumped and burnt out on the nature reserve. The police have been contacted
On a brighter note, the foundations for the new workshop are now complete. The lads have completed the track laying and work will soon be starting on the workshop itself. Owing to local planning regulations the design of the new workshop is 'retro' in style and it should blend in well with the local environment.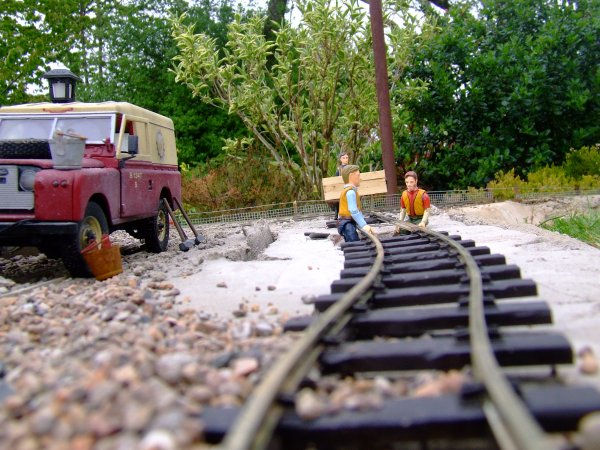 Hamish takes a well earned break and admires the fruits of his labours. By the way, the MPLR has taken delivery of an old, but servicable, Landrover. It is a 21/4 litre series 2a and comes from some old British Rail stock. We are sure it will prove a very useful tool around the railway.
Roundhouse 'Katie' up date.  The newest loco at the MPLR named 'Taffi' has now completed all trials and safety checks and will be in service this summer.  Pictures will follow soon.  And finally, we thought that you might like to take a peek at this rather nice shot of the engine sheds taken the other night by a customer and sent to us via email.  Thanks a lot.