The DVD Shop
On this page you will find a few of the most popular short films that Pits Productions produce.  You can view them either on this website or YouTube or you can now purchase your very own copy to view when you want to with better quality.  All the films are just £5 with all of the money going either Guide Dogs or the RNLI depending on which film/films you would like, the p&p will be covered by us!  All you have to do is email us to order.  Go on, you know you want to!
A VISIT TO MORETON MILL
Pits Productions are proud to announce a  "A Visit to Moreton Mill".  This is a twenty minute tour of the MPLR in all its glory and a short tour of the working watermill Moreton Mill.  All proceeds will be donated to the RNLI but hurry as it is limited edition!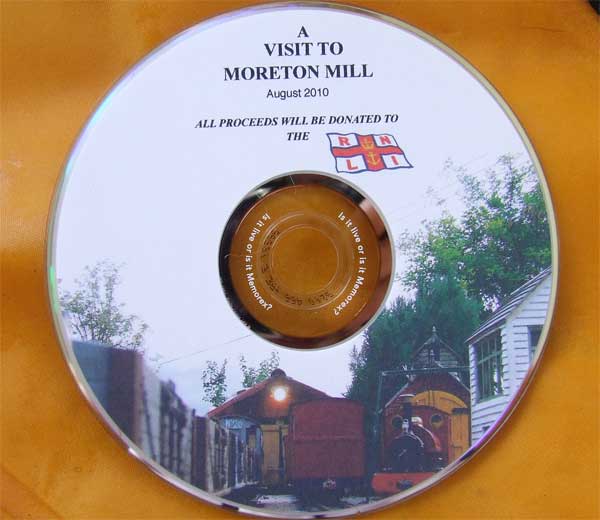 MPLR24
MPLR24″ or 'A day in the Life of the MPLR' is another Pits Production classic, half an hour of pure joy!  This was the first long film that Pits Productions made without any intentions of it being on Youtube, it came about from the PP team wanting to show off all the locos and rolling stock that the MPLR owned, so everyone stars in it!  It was sold at the MPLR Open days with the profits going to the RNLI and has so far raised more than £70.
'A CHRISTMAS CAROL'
Yes, it is a Pits Production adaption of Charles Dickens 'Christmas Carol', it actually follows Dickens story very closely and was filmed deliberately as a black and white silent movie.  It has PP's first attempts at 'stop-motion' animation, and to be honest a lot of new filming and editing techniques were used for this film.  We are very happy and proud to announce that it was shown in 2011 at the First Page Film Festival in Chelmsford, in the Sound and Vision section due to the fact that it has its own original soundtrack composed and performed by Mr Dave Mapp.  A must have for your collection!  All proceeds to Guide Dogs.
THE BLOCKMAN
This film has not been released into the public domain yet and may never be!  So this is your only chance to see it!  This is based very closely on one of the lesser known Charles Dickens stories 'The Signal-man'.  It is a short ghost story set in a railway sidings, about 20 minutes long.  Just the setting for the MPLR!  May possibly come with a bonus mini-film  of  'The Night before Christmas'!  All proceeds to Guide Dogs.
If you would like to order any of these films please email us first at Pits.Productions@gmail.com stating which films you would like to order and your address and we will send you details of where to send the cheque.  Please allow at least 14 days for delivery!