History
[A Goldeneye Ducks view of the flooded gravel pit!]
The Story Behind the MPLR
Like much of East Anglia, Essex is rich in glacial and fluvial deposits of sands and gravel. Moreton like many Essex hamlets had its own gravel pit.
There is evidence that sand and gravel have been extracted for many hundreds of years in this area, indeed many local place-names reflect this. The Moreton Sand and Gravel Company was established as a commercial concern in 1889 or thereabouts.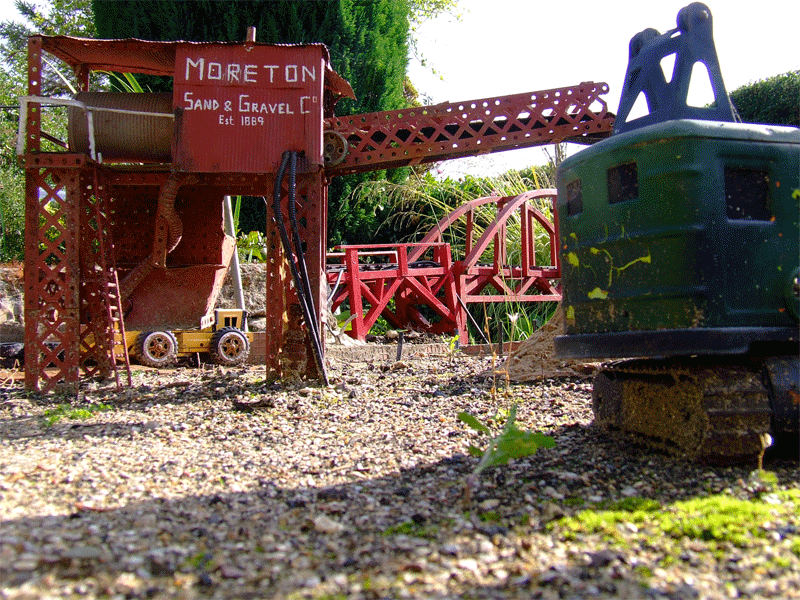 In real life the workings in Moreton closed about ten years ago. Unlike its real life counterpart, the 16mm Moreton Pit had its own narrow gauge railway. This railway was built around 1905 and was used to extract gravel from the pit and transport it to nearby Ongar (2.5 miles or so), where it was transferred to the standard gauge railway (later to become the end of the Central line, closed and reopened as a preserved railway).
Management of the Moreton Pit was transferred from the Moreton Sand and Gravel Co., on a
very long lease, to the 16mm branch of the Essex Wildlife Trust, who developed the site as a prime wetland habitat. The narrow gauge railway was preserved and now exists to transfer visiting members of the public from Ongar to the nature reserve although a little sand is still extracted to help meet running costs etc.
The Moreton Pit Light Railway and Nature Reserve boasts 3 large lakes, an upland habitat (the rockery!), extensive reedbeds and a stream (Cripsey Brook), as well as an area of mature woodland and plantations. There is one hide with superb views over the main lake. The hide is named in grateful recognition, to Bill Oddie, members of the public can alight at the Bill Oddie Halt, from where the hide is a fairly short but steep walk away.
Below is a view from inside Bill Oddie hide across the main lake.
The Moreton Sand and Gravel Co. left behind a large amount of machinery and plant. Some of this has been restored to service and a small commercial pit is now up and running on the reserve. Income from this quarry is used to further improve facilities around the reserve.
The passenger service has become very popular and many visitors come along just for the ride on the railway or to walk round the lakes and waterfalls. The Pitz Cafe is a 'must stop' for most passengers on the railway. For more news of what's happening on the MPLR please visit the 'Diary' pages!