Meet the Staff
Following repeated requests from members of the public and to enhance the service we offer the public it has been decided to add this page to the website. All the staff (full and part-time) are now featured on this page.To begin, we have managed to persuade the three PW staff to stand still long enough for our photographer to take their pictures. They seem rather good at standing still but usually with a fag or cup of tea in hand. The PW crew are responsible for track maintenance and general building work around the site. They also turn their hands to a spot of engine driving and ticket collection when things are busy on the railway.
Hamish McTool hails from Norfolk and has worked for the MPLR all of his working life. He is a skilled digger operator and can turn his hand to anything. His amazing elbows help no end in pulling all those levers! A favorite with the female members of staff!
Terry Towlin, a local lad who joined the MPLR as part of a job creation scheme. Always willing to 'muck in' he is still a bit 'wet behind the ears' but has a wonderfully dry sense of humour.  Some of you may have noticed Terry starring in a few of the Pits Productions films and we are very proud to say that Terry now is very much part of the Pits Productions team and is a dabhand at the 'Pitiflex'!
Job S. Worthy a quiet spoken chap from a very religious, Methodist background.
Originally from the west country he learnt his trade in the tin mines of Cornwall. A stickler for detail and very good at keeping up with paper work, Job performs sterling work keeping the other lads in line.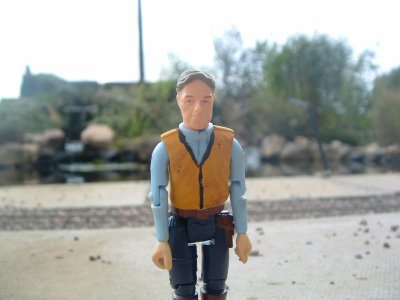 Albert Snodgrass worked on this railway when it was a fully industrial concern. In fact he is older than many of the loco's. Failing eyesight has meant that for H+S reasons he no longer drives engines on the line and is in semi retirement working weekends as a guard on passenger services. Albert refuses point blank to give up his beloved pipe, so we have to turn a blind eye to the no smoking regulations.
William (Billy) Smith is now one of the MPLR's drivers. He usually can be found driving Queen on passenger services. William came to the MPLR from South Wales specifically to work with Queen as he 'could not be parted from her isn't it boyo'.
Jim L. Phixit like Albert used to work for the MPLR when it was an active gravel pit. We are delighted to welcome him back. He has seen many changes around the place but one thing remains the same. Jim's addiction to RosyLea. He is a fine engineer and can turn his hand to anything, adding tealeaves to the pot, boiling up the kettle on the old potbellied stove, stiring in the sugar, you name it, Jim can fix it. Tea up lads.
Archie Rolle is another of the MPLR drivers. Archie spent most of his life as a geography teacher, but developed a keen interest in steam trains during his mid life crisis. He says 'I figured getting into steam trains would be cheaper and less stressful than having an affair, however I am not sure about the cheaper bit'. He went on to say that there is no truth in rumours circulating about him and Miss Pugh aka 'Busty Bertha'. Archie tends to take care of Arthur, but like all the staff on the MPLR is capable of helping out wherever he is needed.
Full of surprises is our Archie (who'd have thought he could speak fluent Icelandic?), now recently had his beard shaved off for charity!  What a difference it made, don't you think!
Miss Bertha Pugh is a good alrounder. She sits on the right hand of the chairman during board meetings, taking notes and seeing to the general comfort of the boards members. There is nothing Bertha likes more than to gossip with the lads and she can often be found working out on the reserve. In the picture below you can clearly see Bertha's lovely puppies.

Sad news, Bertha left us last year soon after the love of her life 'Haruldur the Viking' came to visit.  There was rumour she was seen working for the Maesfford Light Railway but we believe she has probably gone to join her love.
Last but by no means least is Bill Goodie our resident warden of the Moreton Pit Nature Reserve. He has overall responsibility for the smooth running of the reserve and lives above the office in the station house.  He can often be seen out and about with his trusty pair of Leicas (of course!).
Volunteer Staff and Helpers
The MPLR are very lucky in having always had a lot of volunteer help around the railway.  We thought it was about time that the most loyal of them should have their place amongst this page.  Here are few familiar faces you will see on your visit to the MPLR.
Ernest is often seen on the platform of the Moreton Pit station, he has been with us many years is is very attached to his green flag!
Father and son, Donald and Douglas Harris, keep the trains running  strictly to timetable at Lavender Hill Halt.  We think they like to nip into the Pitz Cafe for their afternoon tea!
Talking about the Pitz Cafe, this wonderful establishment is run by a jolly fellow, Rene Carbonet and his daughter Kalseeum. Unfortunately she would not let us take her photo as she looked a bit chalky.
Not to be left out, we have a couple of people who are not normally seen as they are always too busy tied to their job.  We just managed to take a couple of snaps of our tireless blockman Pete Periwinkle, who never seems to leave his post and Harold Dite who seems permanently glued to his seat in the guards van.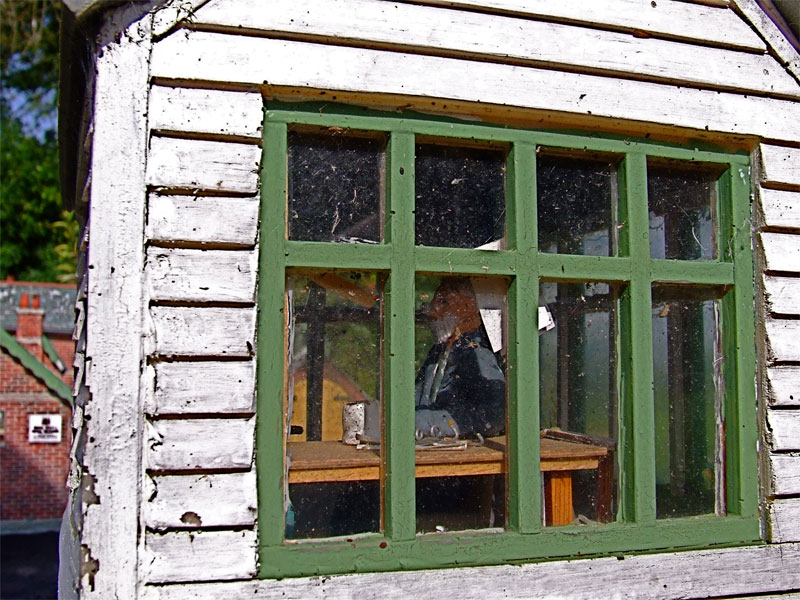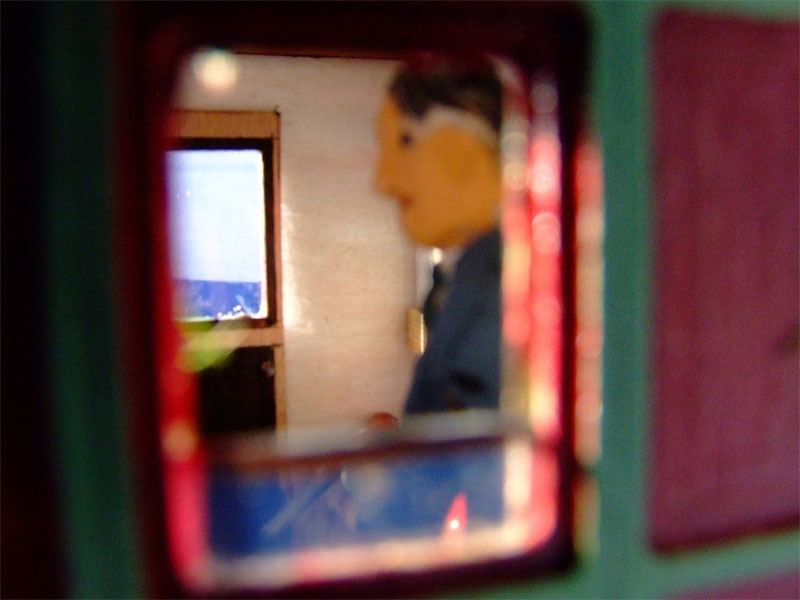 Lastly, a couple of Very Important Persons/Pet!  Mr Victor N Allen is often seen on those special occasions that happen from time to time, and is a very frequent visitor to the railway being on the Board of Directors.  With him can be seen 'Sooty' the station cat.
Being serious for a minute, some of the figures are obviously 'reconfigured' plastic men, some are white metal models from PPS and the 'warden' and Miss Pugh are modelled by us from air-dry clay, more figures are on the way!  Since this was written the number of air-dried people have increased, only we have found it better to use 'Sculpey' which is a very fine clay that is oven dried between each layer of detail.  Takes longer but gives a finer finish. 'Harold' above was the first to be made like this as some of the coaches are populated in this way.