Saturday, December 18th, 2010
Nothing much stops the MPLR from going about its business but unfortunately the latest snowfall has put rather a halt to the running of this years Christmas Special!  Father Christmas was still very busy mind and was happy to see all the children that had come to see him.
Polish Pete was very busy as usual and was his usual jolly self.
Here are some other photos of around the MPLR.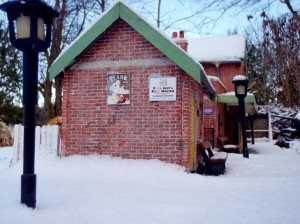 It's been a funny year on the MPLR,  with the refurbishment of the station area and the opening of Moreton Mill, so all the staff are looking forward to a much busier  2011.
So , all we can say is that on behalf of all the staff on the MPLR we would like to wish you all a Very Merry Christmas and a Happy and Prosperous New Year.