The controversial plan to extend the gravel workings recieved the go ahead today. This extension is vital to ensure the financial future of the reserve and railway and will go ahead with minimal disturbance to the wildlife.
As you can see the PW crew lost no time in getting their diggers out and getting stuck in. Watch this space for further news on the new pit.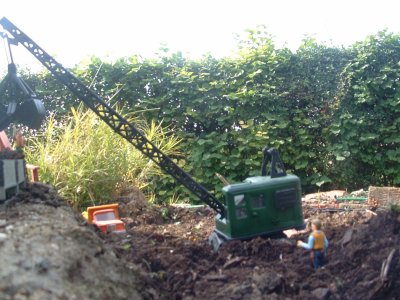 The excavator (above) was built in the late 1950's.  Upon arrival here it spent some time in the workshops being fitted with new caterpillar tracks and chassis (taken from an old Tonka digger).  Windows were added to improve the comfort of the operator and new rigging throughout was installed.  Some extensive welding was required on the boom assembly, but luckily Hamish is a dab hand with the old oxy-acetelyn bottles.  Later it is planned to fit electric motors to the drums so that the Fat Controller no longer has to turn the handles manually.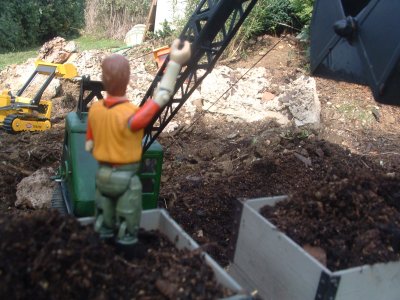 The first task was to clear fell the vegetation, mostly plantation species, and then the removal of the topsoil.  some of this will be stored and used to reinstate the workings when they become exhausted and some will be sold.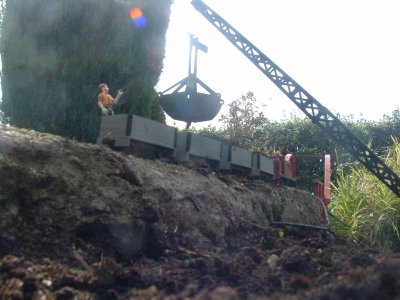 Hamish, supervising the loading of the wagons with topsoil.  He has been reprimanded for not wearing his yellow helmet and contravening a host of H+S regulations.  But he took no notice at all!  The rake of wagons are being hauled by Adolph, the only diesel on the MPLR with sufficient power to move them.
Meanwhile back at the station…
Miss Pugh chats to Albert. Sometimes we do not know what we pay her for.